Can you believe we are starting our 4th week of 2017 already? With that, the United States is already beginning to experience it's first severe weather event of 2017….
As of 6:00 am 1/21/2017…An enchanced risk for severe weather has been outlined by the Storm Prediciton Center for portions of Southern Alabama, western Florida, and as well as a second area in northern Mississippi and southeast Arkansas.
Two tornado watches are already in effect…One for eastern Louisiana and southern Mississippi…including New Orleans, Hattiesburg, and Gulfport.
The second watch is for central and southern Alabama, as well as far western Florida…including Montgomery, AL, Mobile, AL and Pensacola, FL.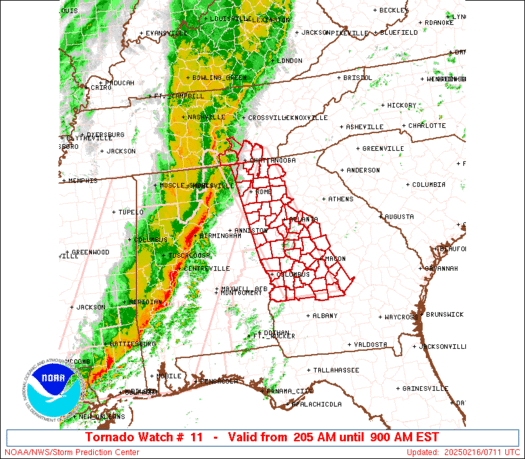 There have already been three prelimnary reports of tornadoes overnight. Extensive damage was reported in the Hattiesburg, Mississippi area.  (Hattiesburg was struck by a violent EF4 tornado on Feburary 13, 2013.)
The Storm Predicition Center outlook calls for multiple rounds of severe weather from this morning all the way into the overnight hours tonight. The primary threat from this system will be a very strong squall line, expected to develop later in the afternoon and carry on eastward through the night.
However, several isolated tornadoes are possible during the daytime hours ahead of the squallline. Torrential rains will also occur, and some hail up to golfball sized cannot be ruled out.
On Sunday, the Enhanced Risk includes a large portion of the Florida peninsula, as well as parts of the Georgia and South Carolina coast.
The Storm Prediction Center expects up to three seperate rounds of severe weather for Florida and south Georgia.
The first will likely produce scattered strong cells well ahead of the cold front during the late Saturday afternnon hours.
The second will be overnight Saturday into early Sunday, with more scattered strong cells. These storms will be more of a straightline wind threat, but isolated tornadoes cannot be ruled out.
The final round of severe weather will likely be a large squall line with bowing segments during the afternoon on Sunday. The line will be capable of producing damaging winds of 60 to 80mph, along with isolated tornadoes and torrential rainfall.
More to come as the situation develops. Stay tuned!